About Supported Lodgings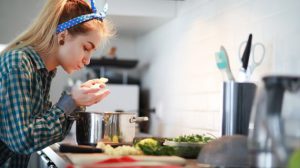 Supported lodgings/STAY is temporary accommodation provided in the homes  of approved individuals or families, known as hosts, who offer a safe and secure environment for care-experienced young people or young refugees, aged 16-21.
The aim of supported lodgings is to provide young people with a safe and  suitable living environment for up to two years, where they can receive support and develop the practical, emotional and relationship skills needed for a successful transition to independence and adulthood.
Role of the host
Supported lodgings hosts should be able to offer the young person a bedroom of their own, provide emotional support, and a chance to learn life skills. It is expected that the young person will engage in education or training, so hosts can still work, as long as they have some flexibility to support the young person with appointments etc.
It is important that hosts:
like young people and enjoy their company; are warm, caring and patient
have an understanding of the issues that young people face on a daily basis
are willing to teach the young person independent skills such as cooking, cleaning, basic DIY, managing money, household bills and developing community support networks
have a keen desire to make a difference in a young person's life in preparing them to live independently
do not have a police record for violent or sexual offences
are available to attend all relevant training.
What support do hosts receive?
Supported lodgings hosts will receive ongoing training to develop their understanding of the needs of young people who have lived in care or young refugees. Responsive and flexible support will be provided from staff, including regular visits and telephone contact. The young person will also benefit from wrap-around support from a multi-professional team.
Hosts will receive a weekly payment to contribute towards rent, food and utilities.
Hosts can support young people by:
building a positive relationship with them and providing a safe and secure living environment
offering practical support and help enabling them to develop domestic and life skills in preparation for living independently
being responsive, flexible and sensitive and providing emotional support through listening and engaging with them
helping them access other services such as education, training and employment, and to establish social networks within the local community
respecting them as unique, worthwhile and capable of taking control of decisions and actions in respect of their own lives
keeping the social worker and support worker updated about the young person's progress and any concerns that may arise
attending relevant training and meetings, and maintaining the required standards of health and safety within their property
attending training on Child Protection and Adult Safeguarding procedures, and ensuring they put these procedures into practice.  
To find out more about becoming a supported lodgings host, download our leaflet, call 0800 0720 137, or complete an enquiry form.