Foster Carers
We currently seeking to recruit foster carers to meet the growing demand of children and young people living in care. Currently there are more than 3,000 children and young people in Foster Care in Northern Ireland.
We are privileged to many valued Foster Carers currently providing safe and warm homes for the children in our care.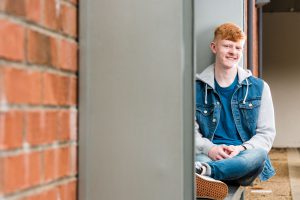 Below we have profiled some of our current champion Foster Carers.
Could you foster? We would love to hear from you.
---
Richard

WATCH: Richard, one of our Foster Carers, talk about his experience fostering with HSC Northern Ireland Adoption and Foster Care:

Jean and Ivan

Jean and Ivan Henry have provided a loving and stable home for a number of foster children.

Jean says: "We have been fostering for over 20 years and in that time we have given many children a home through long-term placements. All of the children we have fostered have moved on either to go to work or university, and we keep in touch so we know how they are getting on with their lives.

"One of our foster children, Titto, came to us when he was 12 years old from India. He lived with us for several years until he started university. Titto and my son became so close that he was best man at my son's wedding. He gave the most amazing speech; it was just lovely and very heartfelt. Titto even changed his surname by deed poll to ours. We are looking forward to seeing him soon to celebrate his birthday. He still comes home to visit us at least once a year, and we have been across the water to see him too. We could not be prouder of Titto and when he got a place at university in London, we took the ferry, drove him over with all his stuff, and got him settled in.

"Like any family we have had our ups and down, however the good times by far outweigh any bad ones. We have found fostering so rewarding; it really has enriched our lives and has been an amazing journey so far."

Erica and Aidan

Erica and her husband Aidan decided to explore the option of fostering six years ago, and they have since gone on to provide a loving and stable home for John*.

Erica says: "John was referred to me when he was five years old and while I was working with him I became aware that he couldn't return to his family and that he would need long-term foster care. I went home and talked to my husband about fostering John and Aidan said 'we can look after him'. We had already reared our family and our son had flown the nest and we both wanted to give this little boy a happy home. The Western Trust were so helpful; we met John's social worker who began the process, arranged training and support and we soon became John's long-term carers. John moved in on 14 February 2014, a day I will never forget.

"There have been challenges as John has a learning disability and autism; he was unable to speak, he still drank from a bottle and didn't eat solid food. John is a very different boy now; we taught him how to communicate, to eat food, to take medicine and to tell us if he needs anything. One day last week, I called him in from playing on his trampoline when dinner was ready. We were all sitting around the table and Aidan and I started to chat, then John started to giggle and held out his arm, which means he wants to join in the conversation too. So he started to talk about his toys, people he knows like my mother, who had come to visit. He really has come on in leaps and bounds."

*John's name has been changed to protect his identity.