The adoptive process
If you think that you could offer a child or young person a safe and secure home through  adoption or would simply like to find out more about what is involved, please get in touch by calling us on 0800 0720 137 or completing an online enquiry. We have an experienced and dedicated adoption team who are ready to answer any of your questions and help you through the process.
The Adoptive Process
Personal preparation
Do a little of your own adoption exploration by reading some books on the subject, refer to the profiles in our adoptive community section and chat to us to answer any initial questions you might have.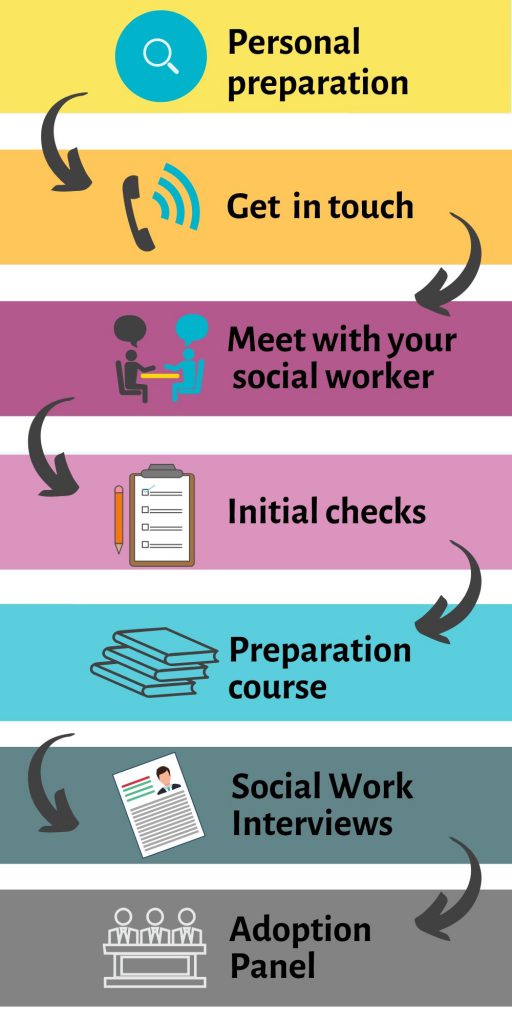 Contact us
We are here to help you, by email, over the phone or in person. Just get in touch and we can help you to get started.
Meet with your local adoption social worker
Consider this your opportunity to answer all of your questions and to get to know the adoption process better.
Initial checks
Once you've made the decision to proceed, we will start the initial evaluation process which includes things like references and background checks.
Preparation course
All applicants will attend a preparation course to educate on all aspects of adoption and to give you the opportunity to feel confident in your decision.
Social work interviews
Next you will meet with your allocated social worker to assess your background, your support network, your lifestyle, your skills and experience, your relationship and your family set up.
Adoption panel
An assessment of your application will be presented by your social worker to the adoption panel for review. The adoption panel will make a recommendation to the Trust Agency Decision Maker and you will receive a final decision on your adoptive parent application.