Fostering A Child With Disabilities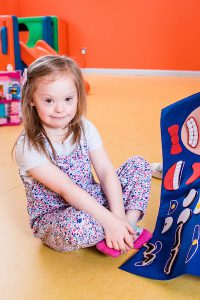 Embarking on a life as a foster carer is a big step for everyone. No matter how confident you are about your decision, there are bound to be ups and downs in the application process and then during your placement, as with life, there will be highs and lows. The decision becomes even more challenging when you consider becoming a foster carer to a child with disabilities.
As the numbers of children in the foster care system climbs, so does the number of children with disabilities and complex needs. Matching each of these children with the best possible foster homes can bring its own challenges. Each and every child deserves love and care, a safe and secure home, and access to medication and support when needed. It is our goal to ensure that each child receives this regardless of their abilities or disabilities.
A Child with Disabilities
Becoming a foster carer to a child with disabilities could mean one of several things. The child or young person may have a learning difficulty like autism, hyperactivity, attention deficit, or reading difficulties. Or they may suffer from physical and mental disabilities that require complex medical care and assistance. Each child is unique and if you decide that you would like to foster a child with complex needs, you would be assigned a disability social worker, and receive specialist training and support.
How to Foster a Child with Disabilities 
To imagine fostering a child with complex needs may seem, at first, overwhelming. It is important however to recognise that there are many different ways in which you could help in the foster care process without committing to a full time, permanent placement. Perhaps you may be able to offer a short break placement in order to assist a full time foster carer or a family. Or maybe you would consider a short term placement which would provide a safe and secure home to a child or young person for a short, defined period of time while they are being reunited with their parents. For the full range of foster care opportunities, please click here.
Training and Support
As with all foster care applications, part of the process will be a full range of training and educational programmes to ensure that you are well prepared for a placement. This is even more relevant to the foster care of a child with disabilities as you may also be expected to undertake training in medical aspects of care, language and communication skills, and other related programmes. Training is ongoing and is constantly updated to ensure that all our foster carers feel fully equipped on all occasions.
Foster care support groups give you the opportunity to build relationships with other foster carers and to learn from shared experiences. Our foster carers find great comfort and substantive help through these relationships.
Who Makes a Good Foster Carer to a Child with Disabilities? 
Anyone who feels they would like to improve the life experience of a child or young person in foster care can apply. There are no specific qualifications that rule you in or out and no 'traditional' foster care candidate. In regards to the fostering of a child with disabilities, it is very important that you can advocate on behalf of the child. Many children with complex needs have not had their voices heard and may not be in the position to communicate and advocate for themselves so having a consistent, compassionate foster carer doing this for them is vital. Other than that, it is a help to be patient, understanding, open minded, a good communicator and to be keen to learn new skills.
It is also important that you feel comfortable communicating and working with any professionals who may be involved in the child's life. Whether those are medical, educational or social work professionals, it is likely that there will be several people with whom you'll need to be in regular contact on behalf of your foster child.
The Rewards
It's clear that making a decision to foster is life-changing in any situation and doing so with a child who has disabilities may be even more emotionally fraught. We will always have fears and anxieties, even if we're experienced and incredibly sure of our decisions, these anxieties can remain. It is important to recognise the huge reward that fostering a child with disabilities can have. The impact that a foster carer can make on the life of a child with disabilities is remarkable.
"There have been challenges as John has a learning disability and autism; he was unable to speak, he still drank from a bottle and didn't eat solid food. John is a very different boy now; we taught him how to communicate, to eat food, to take medicine and to tell us if he needs anything."  – Erica and Aiden, foster carers
Each child has the right to a safe and secure home. To be seen and supported. To be advocated for and to be loved. Being a foster carer to any child, with or without disabilities can offer that.