Young person's thoughts on her foster carer
12th October 2022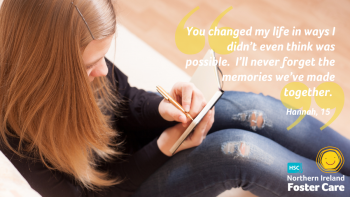 Fifteen year old Hannah* has lived in long term foster care for 7 years. She penned some thoughts on the difference her foster carer has made to her life as she returns to live with her birth mum.
There I sat alone and afraid
You got a call and came straight to my aid
You bundled me up with a blanket and love,
When I needed it the most, you gave me a hug.
I learnt that the world was not all scary and cold
That someone is there to care and hold
I've had so much fun these past 7 years
Even through the bumps and the tears.
You saw me grow and you saw me struggle
But you would always fix it with a bit of a snuggle.
You saw the person I was meant to become
As I start a new chapter alongside my mum.
– Hannah*, 15
"You changed my life in ways I didn't even think was possible. Thank you for treating me like a daughter. I'll never forget the memories we've made together and you'll always be a big part of my life."
*name changed