Two local Foster Carers Recognised in the Queen's New Year's Honours List
17th February 2020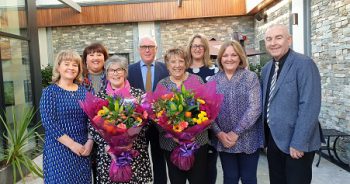 The Western Trust's Women and Children's Directorate paid tribute to two local foster carers who were recognised in the Queen's New Year's Honours List. 
Maureen from Castlederg was named as the recipient of a Member of the Order of the British Empire (MBE) in recognition of her services to fostering in Tyrone and has dedicated this accolade to her wonderful late husband William (Billy) who passed away in November 2019.
Denyse who is the co-ordinator for Home Start in Fermanagh and from Enniskillen was named Medalist of the Order of the British Empire (BEM) for services to Family Welfare.
Pat Armstrong, Head of Adoption and Fostering Services for the Western Trust said: "Maureen and her late husband Billy have provided a loving and caring home for nearly twenty children over the past 26 years. This is a fitting tribute to the memory of Billy and on behalf of the Trust we would like to extend our sympathies to Maureen and her extended family on her recent bereavement.  Denyse along with her husband Robbie, have also fostered many children over the past 14 years and we are incredibly grateful for their commitment and dedication to fostering."
We hope that both ladies have an enjoyable and truly memorable time in London when they pick up their award in May 2020.
Maureen said: "I have gained a family that I would otherwise not have had through fostering."
Both Maureen and Denyse would encourage more people to consider fostering a child or children. They said: "We are incredibly grateful for the support of the Trust and we would encourage anyone considering fostering to take the first step and contact the Trust's Fostering and Recruitment Team who will guide and support you every step of the way. We would like to accept this recognition in the New Year's Honours List on behalf of all the children who are warmly welcomed through our door."
Denyse added: "My motto in life has been to inspire before I expire and fostering has been the best experience and I hope along with my husband Robbie to continue to provide a loving home to children well into the future."
For more information on Foster Care please click here or get in touch today.