'Til I Grow Up – Fostering Information Event
2nd February 2023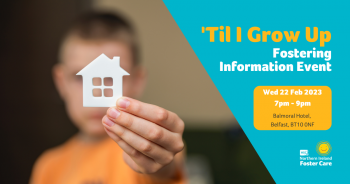 Are you in the Belfast Trust area? Could you give a home to a child and offer them a brighter future?
Across Belfast, there are children and young people of all ages who need a long-term foster home. If you are resilient, flexible, and have the energy and time to care for a child, come along to our 'Til I Grow Up' information event to find out more.
Date: Wednesday 22 February 2023
Time: 7pm – 9pm
Location: Balmoral Hotel, Belfast, BT10 0NF
Carers receive financial allowances and ongoing training and support.
Register your attendance at info@fostering.hscni.net or call 0800 0720 137.