Refugee Week (14-20 June)
9th June 2021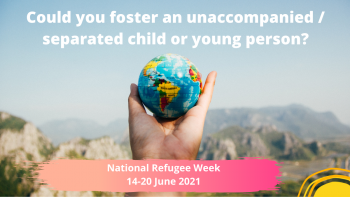 Today marks the beginning of National Refugee Week, which celebrates the contributions and resilience of people seeking a safe haven and aims to create better understanding between communities so displaced people can feel valued and live in inclusive communities.
We are seeking foster carers who could support children and young people from a range of ethnic, linguistic and cultural backgrounds.
Unaccompanied and separated children and young people arrive into Northern Ireland from all over the world without a parent or responsible adult. Most have been separated from their families and find themselves in a new country facing the challenge of different customs and a different language.
In many cases, these young people are fleeing danger and war or they may have been victims of trafficking or exploitation. These circumstances are hugely challenging and they desperately need a safe and welcoming home environment where they will receive practical and emotional support and care.
Click here to find out more about fostering unaccompanied/ separated young people
Read about Heather's experience as a foster carer for an unaccompanied/ separated young person here.
If you think you can help, please get in touch with us
Call 0800 0720 137