Young person "an inspiration to all" says Foster Carer
29th March 2021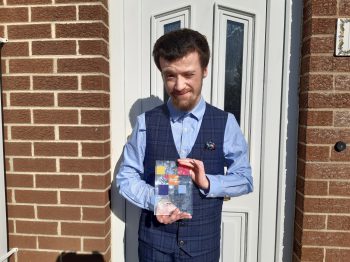 We need more people to provide children and young people with nurturing and stable homes when they're unable to live with their birth families.
Fostering can be a hugely rewarding experience and HSC foster carers are making a real difference to the lives of children and young people across Northern Ireland every day. To young people like Nigel, 21, from Belfast who grew up in long term foster care. Nigel then transferred to the Going the Extra Mile (GEM) scheme when he turned 18, which enabled him to stay with his foster carers where they continued to give him the support he needed to help him in his journey to independence.
Nigel has a learning disability but this hasn't prevented him from enjoying his passion for acting and drama. He recently received an Outstanding Achievement Award from The Fostering Network's UK wide Fostering Excellence Awards for his contribution and continued commitment to drama. He was the only young person from Northern Ireland to receive an award this year. Nigel was also previously awarded an ambassador role within his 'Kids n Control' drama group for other young people with disabilities.
"I'm so proud of Nigel. He really is an inspiration to us all," says Lorraine, Nigel's foster carer. "He has never let his disability get in his way. He just needed someone to believe in him and encourage him and through the Fostering Team he was able to avail of support to have the confidence to take part in amazing opportunities. At first he wasn't overly confident with online drama classes prior to lockdown although his confidence has really grown this past year," she adds.
COVID-19 has opened up more opportunities for Nigel as he's also started a podcast for young people with disabilities to discuss openly how their disabilities affect them. Nigel has also acted in his own short film which was chosen to open the Bounce Festival in 2020. This festival showcases new work from deaf and disabled writers, actors, directors, dancers and musicians. The film is about Nigel's life in care and how drama has helped him feel less isolated.
There's lots of different ways you can help depending on your lifestyle with opportunities to provide foster care either on a short term or on a longer term basis. Click here to find about the different types of foster care.
HSC NI Adoption and Foster Care welcome applications from all backgrounds and experiences. There's no requirement for a certain marital status, home ownership, sexual orientation, age, parental experience or anything else.
With 24-hour social work support, support groups and named social worker, HSC NI Foster Carers are never on their own. We also provide fostering allowances (and sometimes additional finance) and a comprehensive training programme.
If you feel you could give a child or young person a brighter future, get in touch with us today. Call 0800 0720 137 or click here to fill out an online form