Adoption Week 2022 Launched
19th October 2022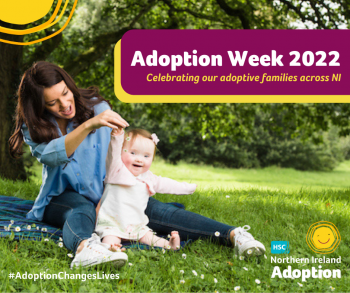 HSC NI Adoption, in partnership with Adoption UK, is celebrating our adoption community this week as we launch our 'Adoption Changes Lives' campaign – part of Adoption Week 2022.
Adoptive parents, prospective adopters and professionals came together today for the virtual launch of Adoption Week in Northern Ireland.
Guest speaker Dr Kerry Sweeney, Consultant Child Clinical Psychologist, discussed developmental trauma and the importance of supporting children and their caregivers who have experienced this.
She outlined the importance of having a supportive team with a shared understanding around the child and the family, as well as self-care for adopters. Adoptive parents need to build relationships with the child to help them feel safe and secure enough to trust, learn and develop.
EJ Havlin, Director of Adoption UK in NI said: "As we mark Adoption Week we need to do all we can to allow children to celebrate their adoption identity and the community they're part of. We want to give these children the best opportunities to thrive and reach their potential."
Adopter, Martin, also shared his adoption journey. "While a lengthy process, our 15 month old son came home to us in February 2020. Lockdown was actually really positive for us as we got to spend lots of quality time with our little boy.
For any prospective adopters, I'd recommend you do lots of reading, complete the training, and sign up to support groups with peers who understand what you're going through. Reaching out to them for advice and support can be really valuable. Also, while it may be uncomfortable for adoptive parents, the best thing for a child is to know their story and have a connection with their past."
Being an Adoption Parent
Being an adoptive parent can be the most fulfilling role you take on. It can change the life of your adopted child or children and open up a whole new future for you, your family and your wider circle.
Adoptive families are made up of heterosexual and LGBTQIA+ people, who are either couples or single, and who may or may not have birth children.
"We were delighted when we completed our adoption journey – beyond happy. We're very much complete as a family and very much in love with our children."
– adoptive parent
Children in the adoptive process can be any age although most often they are between 2-10 years old. There are many sibling groups who need to be adopted as a family unit. Keeping brothers and sisters together ensures their relationships are nurtured and maintained throughout their lives and enables them to grow up and thrive together.
As well as siblings, children aged 4 years and over, and those with specific needs continue to wait the longest for adoptive families.
"Each child in our sibling group had a different personal experience before adoption and developed differently in our family, but we are one.  They wouldn't choose to be without each other, nor us them." – adoptive parent
If you think you could offer a child a loving home through adoption, why not take the next step and get in touch with us to find out more.
Call us on 0800 0720 137 or fill out our online enquiry form
Click here to read / hear about some adopters' experiences