NI Adoption Week 2023 launched
16th October 2023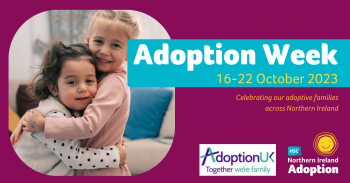 Today marks the start of NI Adoption Week (16-22 October 2023), an annual nationwide adoption campaign where we celebrate our adoption community across Northern Ireland, in partnership with Adoption UK.
Did you know that 108 children were adopted from care in Northern Ireland during the year ending 31 March 2023? (Department of Health: Children Adopted from Care in Northern Ireland 2022/23)
Being an adoptive parent can be the most fulfilling role you take on. It can be life-changing for a child, and opens up a whole new future for you, your family and friends.
Sibling groups who need to remain together, children aged 4 years and over and children with specific needs continue to wait longest for adoptive families.
"One minute it feels like you're getting nowhere then BOOM! The biggest, most amazing thing that you have been preparing for happens – the anticipation turns to excitement. The girls arrived to their new home." – adoptive parent
Support
We're here to offer advice and support at all stages of the adoption process.
There are a wide range of post adoption services that you can access from the moment your child is placed, until they reach adulthood including:
support of an allocated social worker
support groups
post-adoption training
therapeutic parenting programmes
direct work with children and families
Adoption UK provides training on adoption related topics for prospective adopters, new and experienced adopters plus their friends and family network. The training enables the adoption community to understand and support the unique needs of adopted children.
Adopters also get invited to family days to ensure that adoption is a positive identity of a young person and to enable peer support opportunities.
Find out more about post adoption support.
"We're only stepping into adoption but are already reassured that there is a whole community we can contact for advice & support." – prospective adopter
Virtual Adoption Information Session
If you're interested in finding out about becoming an adoptive parent, you're very welcome to come along to our virtual information session to hear from our adoption team. An adopter will also be on hand to share their own experiences.
We would particularly welcome more adopters in the Western area but the information session is open to anyone across NI to attend.
| | |
| --- | --- |
| Date: | Tuesday 24 October 2023 |
| Time: | 3pm – 5pm |
| Join via MS TEAMS | Please call us on 0800 0720 137 or email info@fostering.hscni.net to register |
Get in touch
If you'd like to find out more about becoming an adoptive parent or feel you could offer a child or sibling group a loving, long-term home through fostering, please get in touch.
Call 0800 0720 137
or fill out our short online enquiry form