Meet the Foster Carers…
19th June 2020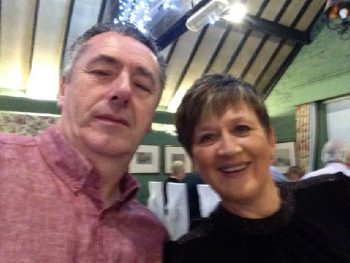 It's Refugee Week and HSC Northern Ireland Adoption & Foster Care urgently need Foster Carers for our unaccompanied & separated children & young people.
Meet Bob & Julie Copeland… HSC Foster Carers for this group of young people.
If you could foster with HSC Northern Ireland please get in touch today. To read more about Foster Care, such as the support available, the process and FAQs please visit our Foster Care section.
What is your name?
Julie and Bob Copeland
How long have you fostered for?
We have been fostering for two and a half years.
What made you take the next step to enquire to become a HSC Foster Carer?

Julie's career has allowed her to see the benefits for children who have been nurtured and fostered within a family setting. We talked about fostering an unaccompanied young person for a couple of months before we made any enquiries as we were both interested.
How did you find that enquiry and assessment process?
We found our fostering assessment helped us think what age group of children we would prefer to foster and what would best suit our family and circumstances. The assessment process was carried out in sessions. This made it easier for us to manage because we are both still out working and it gave us time to think about things that were discussed and questions we wanted to ask. There was never any pressure put on us and we set the pace.
When did you get involved in fostering Unaccompanied & separated children & young people?
We initially discussed the option of fostering an unaccompanied young person at our annual review in November 2019 with our fostering social worker. Then we talked about it at home between ourselves and decided we wanted to find out more about fostering an unaccompanied young person. We were put in contact with a specialised social worker in March 2020 and she came to our house and give us valuable information about the young people that needed a foster placement and signposted us to websites where we could read the relevant information about refugee status and what it entails. We had lots of questions and these were answered efficiently, and we were supported very well in understanding the legal issues we needed to know. We decided to proceed with fostering an unaccompanied young person, so in April we were introduced to our young person and everyone was happy to proceed with the move after meeting a few times and spending some quality time together.
Why did you decide to foster this particular group of young people?
We wanted to give a young person a stable and loving home to enable them to have an opportunity to intergrade into society. Our aim is to give a young person support and encouragement to achieve their goals in life.
What have you learnt from fostering this group of young people?
Our experience to date of caring for an unaccompanied young person has been very positive. We have already seen a significant change in the young person we foster. The young person has integrated into our family life much easier than we ever imagined. The young person presents as fun loving and a very friendly young person with a great attitude to trying and learning new things. The young person has developed a good routine and is very capable of cooking meals and taking care of their own personal space/bedroom and hygiene. These are all things that the young person is encouraged to maintain and develop for their future and independence. We thought this type of fostering would be overly complicated due to the difference in culture and language barriers but have found it surprisingly easy because of the enthusiasm and attitude of the young person. We have found there is a great support network for fostering an unaccompanied young person, such as the opportunity to communicate through an interpreting service. However, our experience is that the young person prefers us to communicate as much as possible in English and animated gestures which can end up in a fit of giggles.
What is your favourite part of fostering?
Our favourite part of fostering is being able to build relationships with young people and see them learn and grow. We like to think being available and approachable for young people gives them an opportunity to talk about things and we answer questions to the best of our knowledge. We enjoy the company of young people and most importantly like a bit of a laugh. It gives us great pleasure to see a young person enjoying life. To watch them learn new things and develop their independence skills gives us a sense of achievement.
What would you say to someone considering fostering?
We would recommend to anyone interested in fostering an unaccompanied young person to not hesitate in making enquiries. The information we received was invaluable and presented in a friendly and informal manor. The social worker from the scheme explained issues, situations or scenarios for accompanied minors that we would not even have considered and developed our understanding of some young people's situations. We enjoyed the process and found it an interesting experience.
Could you foster an unaccompanied & separated child & young person? Watch our animated video to learn more about unaccompanied & separated children & young people by clicking here.
HSC Northern Ireland offer comprehensive support to all Foster Carers, please click here to read more about what being a Foster Carer entails or get in touch today by calling 0800 0720 137 or fill in our online enquiry form to recieve a call back from a local social worker.