Could you give Leo*, 5, his forever home?
13th April 2023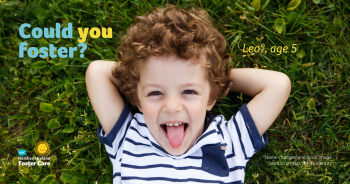 Leo is a beautiful, bubbly and energetic 5-year-old boy. One of his favourite things to do is talk and ask lots of questions.
Leo is a handsome boy with big, bright blue eyes and brown curly hair. He loves nothing more than dressing up and trying to scare his foster carers and social worker. When he is not playing pranks, you'll find Leo in his superhero costumes – his favourite one is Spider-Man.
Leo is in primary one where he enjoys learning, playing, and making friends. He has ASD which means he gets extra support in school to help him. He missed a lot of school as he had to move around a lot and because of this, it can sometimes be hard for him to concentrate and he needs encouragement with his work. He attends school in the Northern area and it is preferable he remains here as it offers consistency and stability.
Like other children, Leo likes having lots of fun. Going to the park, dressing up, and playing with toy cars are some of his favourite things to do. When he is not on the move, he enjoys watching his tablet. Leo is very kind to animals and he loves petting and playing with them.
Sadly, Leo is unable to live with his birth family. He has some difficult memories which can be hard for him to understand and he needs a stable environment with understanding carers who can make him feel safe.
Leo is part of a big sibling group of seven. Because he couldn't live at home, Leo has lived with foster carers and moved around a lot. He knows he needs a loving family to care for him, but he can find it hard to trust adults and gets frightened easily. Leo would benefit from carers who are patient and resilient, who can recognise the challenges he has experienced, and can offer him the safe and nurturing home he deserves.
It is anticipated that Leo will have regular contact with his mother, once per fortnight, and with his sibling group, again once per fortnight.
Ideally Leo would be best placed in a home where there are no other children so his carers will have the time and energy to dedicate to him.
If you think you could give Leo his forever home, please get in touch. A financial package is available and carers will receive ongoing support and training.
We will be hosting a virtual information event on Thursday 4 May at 7.00pm for anyone who wants to find out more. Please register by phone on 0800 0720 137, email info@fostering.hscni.net, or complete an enquiry form.
*Name changed and stock image used to protect child's identity.