Can you provide a long-term home to Holly*, 9?
8th December 2022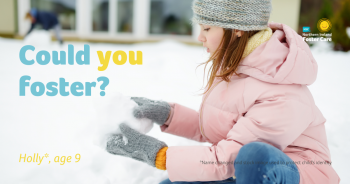 Holly is nine years old with brown hair and blue eyes. She is interested in lots of things but is a real bookworm, enjoying the Horrid Henry series and anything from JK Rowling and David Walliams. She also loves learning science facts on Youtube, practising yoga, arts and crafts, baking, and she loves her comfy blanket when she is relaxing or watching a film.
Holly can take some time to build trust in relationships and tends to relate better to females initially. Gentle support and encouragement would help her form relationships with male carers. Ideally, Holly would benefit from a family environment where she would be the youngest child.
One of the ways in which Holly can feel connected and cared for is by having her hair washed. She would do best with carers who have a lot of time to spend with her and who she could learn new and interesting things from.
While Holly does not live with her birth parents, she maintains contact with them separately, as well as her granny. She also visits and spends time with two other foster families, however they are unable to provide the dedicated support Holly needs. They would be keen though for contact arrangements to continue once a long-term home has been found.
Support 
Due to her individual needs Holly's foster carers will receive a salary of £36,000, in addition to foster care allowances which cover expenses.
As Holly's foster carers you will receive nominated social work support, peer support opportunities from other foster carers, respite/short breaks twice per month, access to appointments with support service for therapeutic parenting, a comprehensive training package and access to outreach support.
If you think you could give Holly a loving home and offer her a supportive future, please get in touch. We welcome enquiries from anyone, regardless of their race, religion, language, culture, gender, disability or sexual orientation.
Information session 
We are hosting a virtual information session for anyone who is interested in finding out more:
Date: Monday 19 December 2022
Time: 7pm – 8pm
To register, please call 0800 0720 137 or email info@fostering.hscni.net
*Name changed and stock image used to protect child's identity.