Could you provide a home for Lucas, 12?
27th June 2022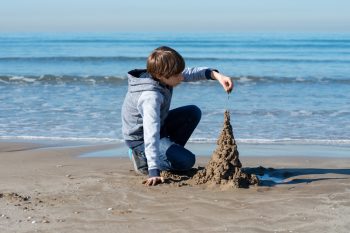 We are looking for foster carers for Lucas*, 12 preferably within the Carrickfergus, Newtownabbey, Antrim, Ballymena, Larne, Ballymoney, Moyle, Coleraine, Magherafelt or Cookstown areas.
"My name is Lucas and I am 12 years old – I have dark curly hair and sparkling brown eyes. I am a very happy boy with lots of energy and love to spend time outdoors. I have a severe learning disability and autism and I find it difficult to communicate my needs to those caring for me. I am non-verbal so it would be good if you knew basic Makaton (a form of sign language) to understand my requests. If not I can let my carers know what I want or need through gestures, sounds and lead you to objects or places.
Since coming into care I have and will continue to develop new skills if my foster carers show me how to complete daily tasks. Despite my extra needs I am an energetic boy with a funny and mischievous personality. I love going swimming and paddling my feet at the beach when out with my carers. I like adventure and exploring my surroundings. I enjoy spending time outdoors running, walking, jumping on the trampoline or exploring beaches, forests and going to the play park. To keep me safe I need constant adult supervision when completing these activities.
When indoors I use my iPad to watch and complete Joe Wicks on YouTube. My favourite indoor sensory activities would be finger painting, playing with sand, foam, and slime or excavating eggs to find the dinosaur. I play this on my tough tray which meets my sensory needs. My carers describe me as a 'water baby' as I am always happy to have a bath or shower every night before bed, particularly after messy play. Most nights it takes me a while to fall asleep, however I will remain in my bedroom. Once I fall asleep I generally sleep all night. I need my bedtime routine to be consistent each night, I like to have my iPad in the evening and go to bed at 9pm.
I attend a school for children with Special Educational Needs, which I really enjoy. I have a limited appetite and prefer finger foods that are spicy. I will try new foods though and I also love sweet treats! I see some of my birth family every week."
Lucas requires a longer term foster home with two adults, one of whom needs to be at home on a full time basis. To enable one foster carer to be at home, we will provide you with an annual fee of £13,000. When Lucas reaches 18 a plan for his future care will be decided.
Other supports we will offer:
Fostering allowances to cover day to day expenses
Support from a fostering supervising social worker and from a childcare social worker
Comprehensive training package (face to face and online)
Access to other professionals to help you support Lucas
Short breaks and summer schemes will be available
Foster care support groups
Information Event
If you feel you could care for Lucas or would like more information about him come along to our information evening this Wednesday.
| | |
| --- | --- |
| Venue: | Dunsilly Hotel, Antrim (Laburnum Room 2) |
| Date: | Wednesday 29 June |
| Time: | 6.30pm – 8.30pm |
Alternatively, Call 0800 0720 137 or fill out our short online form 
*name changed and stock image used to protect his identity