Could you foster Noah, aged 12?
21st May 2020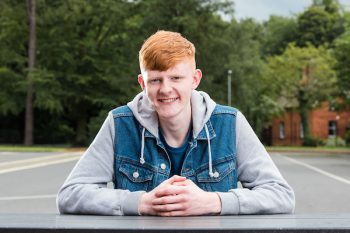 Noah* is a 12 year old boy who has fair hair and wears glasses. He is approximately 5 ft. tall and has bright blue eyes. He is an affable young boy who is friendly, chatty and inquisitive.
Noah is very intelligent and quick to learn.  He has many interests which include numbers and technology and also enjoys swimming and attending his local youth club. Noah loves music and has a beautiful singing voice.
Noah is currently living in a children's residential home. At the beginning of Noah's placement, he was very unsettled and could present as demanding, however, over time with stability and support Noah has developed the ability to be calm and relaxed. He has responded well to living in a small group setting and is now looking forward to returning to live within a foster family.
Like many 12 year olds Noah does not always take direction easily from adults and he can have tantrums, gladly these are short lived! Noah does have insight into his behaviour and is quick to apologise when he feels his behaviour was not acceptable.  Noah is a little socially immature and his language is sometimes inappropriate in social settings, this will however improve through support and stability in line with his development and age.
In relation to school and education Noah will be in going into Year 9 of secondary school in September. Noah does not have any formal support teacher at school but his class teacher advises he works best when she places him at the front of the class. Noah finds it difficult to concentrate on classwork and his teacher often needs to spend time keeping him on task. Noah finds socialising with children in school challenging, as this setting often makes Noah anxious. Noah prefers to spend time in the company of adults. The teachers have remarked on Noah's abilities and how fond they all are of him.
Noah is a good sleeper and will sleep all night from around 11pm to 7am.  He eats very well and enjoys a range of foods.  He is always conscious of meal times, and enjoys breakfast, lunch, dinner and supper.
Noah spends time with his family once a month and these relationships are very important to him. Noah's family are loving and affectionate towards him and this family time is something Noah looks forward to and enjoys.
Noah is a delightful young boy who has progressed in a placement where attachment issues are understood. Noah now requires energetic Foster Carers who can provide consistent care and support to help him to achieve his potential whilst supporting his development until he is able to live independently.
The family environment would be of importance in terms of sibling support from older children who either reside in the family home or remain visiting the family home. Although not a requirement, family members can offer so much in terms of support and positive role modelling, Noah would however also respond well within a placement with no other children.
Noah would like to move to a foster placement where he can stay on a long term basis and therefore he would be best placed with two Foster Carers. It would be important for one carer to be available for Noah when he returns each day from school to be available in supporting him with daily routines and providing security. A single carer would not be suitable for Noah.
Could you provide Noah with a loving home and safe environment to grow up in?
You will receive 24 hour social work support along with a comprehensive training package and annual fee of £18,000 provided monthly, alongside the additional fostering allowance to cover day to day expenses. Further support will be made available from other appropriate professionals to enable you to understand Noah's needs at different stages in his development. Short breaks will also be provided at certain stages throughout the year for additional support.
If you would wish to discuss your potential to care for Noah please contact the Fostering Duty Team by emailing Fostering.duty@setrust.hscni.net or by calling 028 9127 0672. We are happy to give you enough information for you to make an informed decision as to whether you wish to make a formal application to care for Noah.
*Noah's name has been changed to protect his identity.
*The image is of a model and not Noah to protect his identity.
For more information on Foster Care please click here or to get in touch with our central team please click here.