Could you provide a long term home for Chloe*, 15?
8th November 2022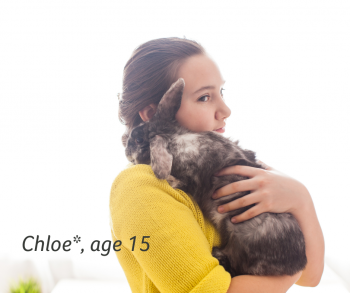 Chloe* is 15 years old. Chloe, like all teenagers, is into make-up, fashion and music.
Chloe is a beautiful young girl with a lovely smile and a great personality. She is funny and is kind and polite and can get along with anyone. Chloe loves going to town spending time with her friends and is learning to be independent. She enjoys trying different foods and has recently started cooking some Asian meals.
Chloe has lived in foster care for over nine years, she understands that her current foster carers provide very short term care and we are hoping to find her a home with longer term foster carers who will look after her while she moves into adulthood and can live independently.
Chloe has an idea of the type of foster home she would like to live in.  She doesn't mind if she lives in a home with two carers or a single foster carer. Chloe doesn't mind if there are other children in the home. Chloe enjoys animals as company so a home with animals would be good for her.
Chloe in the past has played hockey and would like to move to an area that has a hockey team she could join. She likes to keep busy and has recently taken an interest in the gym and exercise.
Chloe enjoys food and would like her foster carers to make nice dinners. She likes pasta, gnocchi and loves to help in the kitchen. Chloe also doesn't mind helping with things around the house and we would like her to be with a foster carer who could encourage this and help her learn skills for when she becomes an adult.
Chloe needs permanence. She needs long term foster carer/s who can understand and support her with the difficult experiences she has been through in her life.  She needs carers who can provide her with unconditional love and support and who can work through issues with her and not give up on her.
Chloe needs a gentle approach to discipline and an explanation that discipline is for her safety. This helps her to be safe but also gives her the right balance of independence.
Chloe is doing her GCSE's at school at the minute and a home that would support her through this would help her to do well in her exams.
Virtual Information Session
We are hosting a virtual information session for anyone who would like to find out more about Chloe.
| | |
| --- | --- |
| Date: | Thursday 17 November |
| Time: | 7.00pm – 8.00pm |
To register for this information session, call us on 0800 0720 137 or email info@fostering.hscni.net
If you would like some more info about Chloe, you can also fill out our online enquiry form
*Name changed & stock image used to protect her identity