Could you adopt Conor?
20th April 2022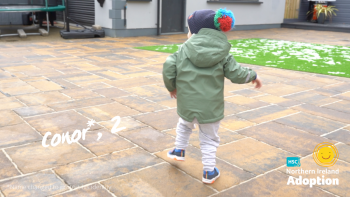 Conor* is an energetic 2 year old. He loves listening to music, watching Cocomelon and listening to nursery rhymes. Conor loves being outdoors, playing on his swing and going down the slide.
Conor's favourite thing to do is to play with water – he enjoys playing in the bath, paddling in the sea and jumping in puddles. He also likes to play with his toy kitchen and pretending to cook.
Conor is very affectionate, and seeks out hugs and kisses from his foster carers. He has a big smile and likes the attention of the adults in his world.
Conor may have some delay in his development compared to other children his age and as he gets older he needs a family who are really committed to helping him reach his potential. Conor is being assessed for autism due to these delays and a specialist nursery placement may be required for Conor. There are some worries about Conor's speech, but Conor is able to express himself and repeat some short words. Conor was also late to walk but is now moving and running around like a typical toddler!
Conor's foster carers have loved and treasured him and are looking forward to helping his new family get to know and love him. Conor needs a forever family and ideally we are looking for someone who could adopt Conor. However, if you could offer him a long term foster family we would also like to hear from you. Conor does not need to be the only child in a family and at present enjoys sharing his home with other children.
Could you share Conor's journey through life? Watch his video
If you live anywhere in Northern Ireland and would like to find out more about Conor, please get in touch on 0800 0720 137 or fill out our online enquiry form
*Child's name changed to protect his identity