Community unite to welcome foster child
16th September 2021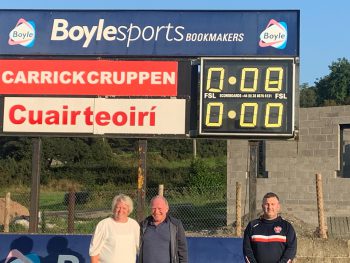 In one South Armagh village a whole community is living up to the teaching of the old African proverb "It takes a village to raise a child" which has even helped land a GAA championship for the local Gaelic team.
Camlough couple, Jimmy and Lorraine Grant began their fostering journey in 2012 and were confident that their skills and parenting experience could offer something valuable for young people who required consistent care.
The couple recently had a young teenager placed with them who was not from the area and did not go to school locally. They wondered how they could integrate the young person more into the local community and establish some peer friendships for him. After some consideration, Jimmy and Lorraine concluded that despite not being involved in sport themselves, the young lad had been a keen Gaelic football player, and this might be an avenue to explore.
Jimmy's brother Paddy had played Gaelic football for Carrickcruppen GAA club in the '70s and so they made an approach to local coach, Anthony McClean. He invited the young player to join in the training sessions at Carrickcruppen but insisted he continue playing with his previous club.
However, the new player was so warmly received at Carrickcruppen that he soon requested a transfer to play alongside his new friends. Although originally starting out as a substitute, the youngster worked hard to earn his place on the team and the Grants recall their joy when he eventually made the starting line-up.
Jimmy said: "The joy in his face that evening was indescribable, and we were delighted for him after the effort he had put in."
Coach Anthony indicated that he had a continued focus on the wellbeing and development of all the children on the squad and was adamant that the new player only played when he had earned his spot on his own merit.
Whilst it is indisputable that the player has gained much from his inclusion within the team and the wider club, Anthony is quick to point out that the other players, including his own sons have also benefitted from some diversity within the team.
He said: "Most of the players have grown up in the area and played alongside each other from a young age. They have not been required to think about the impact of moving homes and communities and so this has been an eye opener for many of them. Within the team the players have been open-minded about someone new joining, supported this integration and worked on team skills that are required to succeed."
Clearly this ability to work together and keep a focus led to their clinching of a championship title earlier in the season at the Athletic Grounds in Armagh.
Carrickcruppen Youth Development Officer, Barry Flynn said the pastoral care and emotional wellbeing of young people in their community is a key consideration for everyone at the club.
He said: "There are a huge number of young people who have been involved in our club's activities through playing Gaelic games, cultural activities, school coaching programs, our annual summer camp or attending wellbeing events. This has often included children who are in foster care locally, a number of whom are still playing in our club colours. We are proud to offer a social outlet to everyone in our community."
Melanie Coffey, Senior Manager for Fostering and Adoption Services in Armagh, Dungannon, Craigavon, Banbridge & Newry & Mourne area, has praised the club for their ongoing support in, what she describes, as very challenging times.
Melanie said: "There is a growing need for foster carers from all areas of society to meet the increased demand for safe and loving homes. Many share ideas that they would like to consider fostering but feel they are not special enough. We need to get the message out that whilst fostering is an extraordinary thing to do, we need ordinary people to come forward. Nothing you have to offer will be too small to consider and frequently children in foster care describe what they want is a desire to feel normal."
Foster care can range from short term support to longer term care so there are different ways you can help depending on your lifestyle and family circumstances.
Could you foster?
For more information please contact us on 0800 0720 137 or fill out our online enquiry form