"We just love fostering" Newry couple reflect on 6 years as HSC Northern Ireland foster carers
28th October 2020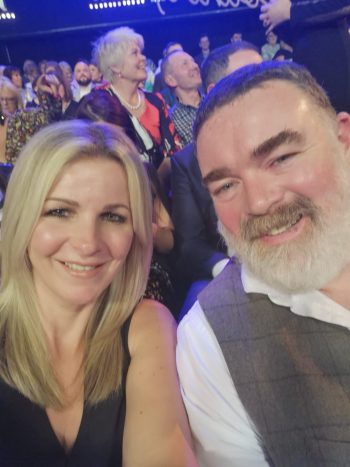 HSC Northern Ireland Foster Care still need foster carers during the Covid-19 pandemic. Covid doesn't stop the need for ordinary people to make an extraordinary difference on some of the most vulnerable children and young people in Northern Ireland today. Ordinary people like Ciara, from Newry.
Ciara and her husband Brendan have been HSC Northern Ireland foster carers for 6 years. They decided to foster after hearing about the need for foster carers from their daughter.
Ciara said: "We decided to foster after our daughter became a social worker and we learnt first-hand about the need for foster carers in Northern Ireland. We rang HSC Northern Ireland, made our enquiry and have never looked back!"
The couple currently foster two teenagers and suggest that others should consider fostering teens: "We love fostering teenagers; they are more independent and don't need as much 'looking after' as babies and young children," Ciara said. "We have a busy lifestyle and so fostering teenagers works perfectly into our routine.
"After we enquired we spoke with a social worker and began the process. We attended a preparation course to help understand more about fostering and to help us prepare for the first young person that we cared for. The process was not as long as you might think and was actually really interesting."
Ciara says the support from HSC Northern Ireland is vital to help care for the young people: "Over the last six years we have went to lots of training. The training is essential as it gives you the skills and tools to deal with any difficult situation. The things we have learnt from training have helped us to deal with the young people in our care over the last six years.
"Since the pandemic we have moved to online training to allow us to continue to learn new skills even when in the house," Ciara continues. "There is also a safeguarding app on your phone and 24-hour social work support. Our social worker is fantastic; she's always there for us and shares her knowledge and skills with us."
Reflecting on the past 6 years as a foster carer, Ciara says: "We are hoping to foster for a long time because we just love it. The memories we have made and the joy it brings to our family is immeasurable. If you have ever considered fostering take the next step now. It could be the most rewarding thing you will do."
If you are interested in becoming a foster carer, like Ciara, or just want to find out more get in touch with us today.  We will provide you with 24-hour social work support, financial assistance, training and much more. Visit our foster care section to read more or call 0800 0720 137 to speak with a social worker. Search HSC foster care on Twitter & Facebook.
Could you give a child a brighter future?