Fostering team take part in Belfast Pride to encourage more people from LGBT+ community to foster
29th July 2022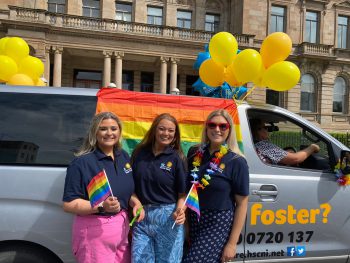 Look out for our fostering van and staff who are taking part in tomorrow's Belfast's Pride parade! If you're in Belfast city centre and are considering fostering, the team will be delighted to stop and have a chat with you to tell you more.
As the number of children and young people in foster care increases, it's important that we have a diverse range of foster carers who can best meet the needs of each child and young person. We're looking for people who can offer children and young people a safe and nurturing home life, security, a strong support system, resourcefulness and resilience.
We have a small but ever growing number of new foster carers within the LGBT+ community but we welcome more people to come forward to foster.
Read our blog about some of the qualities we look for in our foster carers.
"We've been fostering for 7 years now and have never looked back. Our lives have changed completely. Having a foster family has exceeded our expectations, and the fulfilment we get from seeing the children thrive and grow in our care is incredible." David, foster carer
Discover fostering and give a child a brighter future.
Call us on 0800 0720 137 or fill out our short online enquiry form and we'll be in touch to help you decide whether fostering is right for you and answer any questions you may have.