30 miles in 30 days to help us recruit 30 new foster carers
1st September 2021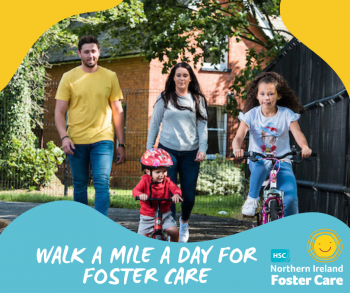 Ready for a challenge?
Walk, run or jog 30 miles in 30 days this month
Help us recruit 30 new HSC NI foster carers
Take on our 'walk a mile a day' challenge from today, 1 September to help us raise awareness about the need to recruit 30 new foster carers across Northern Ireland to meet the increasing demand for foster homes…
…because every child deserves a safe and nurturing home life.
You can walk, jog or run the distance – why not call on your friends and family to take part too?
We'd love you to share photos of your walks. You can email them to us at info@fostering.hscni.net or share them on social media tagging in @HSC Adoption and Foster Care Service.
Some of our fostering teams will be out and about across NI this month to help spread the word about fostering. If you see them, please feel free to stop them for a chat about foster care.
If you've ever considered fostering, get in touch with us to find out how you can give a child a brighter future.
Call 0800 0720 137
or fill out our short online enquiry form