HSC Foster Carer, Louise, explains why she enjoys online training
13th July 2020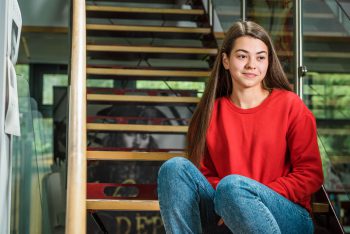 During this unprecedented time in line with government guidelines we have seen all face to face training across Adoption and Foster Care paused temporarily.
HSC Northern Ireland have over 50 online training courses available to our Foster Carers and Adoptive Parents. We encourage all Foster Carers and Adopters to take part in this training to make sure you can still learn new skills despite the current pandemic. Please click here to view all the resources and remember to tell your supervising social worker if you complete any training to update your records.
Louise, a HSC Foster Carer, has taken part in some online training and she has shared some of her views.
*Please note: this image is not of  the young people
in Louise's care to help protect their identities.
_______________________________________________________________________
My name is Louise, along with my husband Paul we have been a long term Foster Carer since 2009.
What are the benefits of learning & development opportunities for you as a Foster Carer?
The benefits of training for me are: It gives me better understanding of the children & their needs & it motivates me to be a better carer. I enjoy learning.
Can you tell me about the online sessions you have completed and what you plan to complete?
Paul & I completed the First Aid course and hope to do a course on Attachment and Trauma.
What did you enjoy about completing online sessions what are the benefits of online training?
Online training fits in with me and its really handy for Paul as he doesn't have to take time off work to attend courses he will gladly do one on the computer from home.
The only issue and its minor is that you can't ask questions, but to be honest it's no big deal as most of the information on each topic is clearly covered.
Is there a sense of need for both online and face-to-face learning; what are your views?
I enjoy the social aspect of training and find that you learn so much from other carers, so I would like to do both.
Are you a Foster Carer or Adoptive parent with HSC Northern Ireland Adoption & Foster Care? Click here to view the online training resources. Remember to tell your supervising social worker once you complete a course to keep your training record up to date.
Read what Orla, a kinship Foster Carer had to say about online training.
We also caught up with Tanya – click here to read more.