Amanda, one of our social workers, discusses online training
20th July 2020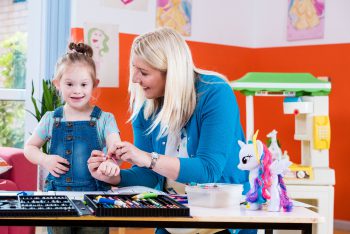 During this unprecedented time in line with government guidelines we have seen all face to face training across Adoption and Foster Care paused temporarily.
HSC Northern Ireland have over 50 online training courses available to our Foster Carers and Adoptive Parents. We encourage all Foster Carers and Adopters to take part in this training to make sure you can still learn new skills despite the current pandemic. Please click here to view all the resources and remember to tell your supervising social worker if you complete any training to update your records.
Amanda, a social worker for some of our HSC Foster Carers, has shared some of her views.
_________________________________________________________________________
My name is Amanda I am a supervising social worker for HSC Northern Ireland Adoption & Foster Care.
What are the benefits of online learning & development opportunities for Foster Carers?
Online learning & development enhances Foster Carers knowledge and skills and empowers them to competently meet the children's needs in an empathic, therapeutic approach which promotes co-regulation. Online sessions enable Foster Carers to be more flexible as they do not need to organise travel or child care.
However as a supervising social worker it is important that a reflective discussion is facilitated to consolidate the carer's learning.
How do the foster carers you support fit training into their busy lives at this time?
The carers I support are enthused to complete sessions of interest and placement relevance, this is achieved through motivating supervisory discussion during my home visits.
The benefits of online sessions are they can be completed at the Foster Carers pace and in a time frame which suits; mostly with a relaxing cuppa when the children are in bed.
What would you tell other social workers to help them encourage their foster carers to engage in online training & how to incorporate their learning into your home visits?
Be creative and motivating in your correspondence with Foster Carers supported by a gentle reminder via text prior to next visit. Give praise for the completion of sessions and show genuine interest as you invite them to share their learning and its application to the placement.
I have seen Foster Carers levels of self-confidence increase through the completion of online learning and they clearly have a sense of achievement through successful completion of online sessions.
Are you a Foster Carer or Adoptive parent with HSC Northern Ireland Adoption & Foster Care? Click here to view the online training resources. Remember to tell your supervising social worker once you complete a course to keep your training record up to date.