Supported Lodgings Info Stands
24th February 2022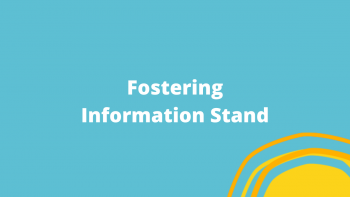 Interested in finding out about becoming a Supported Lodgings Host?
If you're in the vicinity during the day, drop by one of our information stands for a chat with our team.
?Friday 25 February
?Castle Mall, Antrim
?Royal Victoria Hospital ground floor foyer (12.30 – 2.00pm)
?Abbey Centre, Newtownabbey (3.00pm -6.00pm)
Our teams will also be out and about hosting more information stands over the next few weeks:
?Thursday 3 March, Ulster Hospital canteen (9.30am to 2.30pm)
?Friday 4 March, Causeway Hospital site, Coleraine (12.30pm to 3.00pm)
?Sunday 6 March, Kennedy Shopping Centre, Belfast (from 2.00pm) (general fostering info stand)
?Friday 11 March, Cookstown, Tesco (3.00pm to 6.00pm)
?Friday 25 March, Belfast City Hospital canteen site (12.30pm – 2.00pm)
Supported Lodgings Hosts provide accommodation for young people aged 16-21 who have lived in care and who are not quite ready to live independently. You will receive ongoing support, a weekly payment to contribute towards rent, food and utilities; an allocated social worker and training opportunities.
We welcome applications from people from all backgrounds, regardless of marital, employment or home ownership status. As long as you have a spare room and have time to give to a young person we would love to hear from you.
Call us on 0800 0720 137 to find out more about Supported Lodgings or about the different types foster care available