Ballynahinch student thanks foster carers for educational success
20th September 2019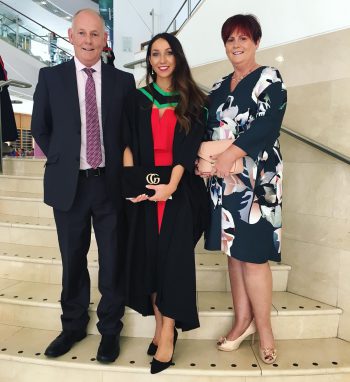 A young woman from Ballynahinch reveals how growing up in foster care helped shape her future career as the Regional Adoption and Fostering Service launches a new campaign encouraging more people to become foster carers through the Health and Social Care Trusts. Twenty-three-year-old Migle was fostered by South Eastern Trust foster carers Michael and Martha eight years ago and is currently studying Computer Science at Queens University.
Migle, who moved in with Michael and Martha when she was 15 years old, said: "I wouldn't be where I am today without their support. Before I went to live with Michael and Martha I never even thought about going to university. They were able to help me choose what I wanted to do with my life. They organised tutors for me in subjects I struggled with, which helped me to do well in exams and go to university."
Migle moved to Northern Ireland in 2010 from Lithuania. She said her foster carers helped her to learn English: "Michael and Martha always spoke English in the home, which helped me to learn the language, make friends and do well in school. They took me on holiday to Spain and Greece which opened my eyes to the world as I had never been on holiday before. I always felt like part of their family. My only wish is that I could have lived with them since I was a baby."
The Regional Adoption and Fostering Service is currently seeking to recruit foster carers to meet the growing demand of children and young people living in care. Currently there are more than 3,000 children and young people in foster care in Northern Ireland.
Una Carragher, Principal Social Worker, Regional Adoption and Fostering Service said: "There are many myths about who can and cannot foster. We welcome enquiries regardless of race, religion, language, culture, gender, disability, age and sexual orientation.
"We are looking for people who can open up their hearts and homes to provide care for children and young people like Migle, who is currently in third-level education, as a result of the support she received from her foster carers. Foster carers must be willing to offer a safe and secure home where children and young people feel valued, respected and cared for."
If you have ever considered fostering, or would like further information on how to become a foster carer, then please contact the Regional Adoption and Fostering Service on 0800 0720 137 or click here.