'Inspiring' foster carer wins Fostering Excellence Award in Birmingham
2nd November 2023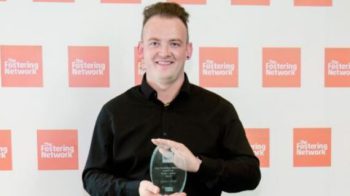 One of our foster carers has won a prestigious Fostering Excellence Award at an awards ceremony in Birmingham.
The annual 'Fostering Excellence Awards', hosted by
The Fostering Network
, celebrate outstanding achievements in fostering across the UK and recognise those who make exceptional contributions to foster care every day.
John Joe Largey, from Antrim, fosters in the Northern area and currently cares for two 12-year-old boys on a long-term basis providing them with attention, consistency and love which has enabled them to thrive and begin to achieve their potential. Alongside this, John Joe looks after babies on a short-term basis, caring for them until they are ready to move on to a more permanent home.
He also supports Northern's fostering team with foster carer training and recruitment and was described in his nomination from a retired social work senior manager as "simply inspiring".
John Joe's partner Luke, who was one of the nominators, said: "John Joe is one of the most inspiring people I have ever met. His compassion is simply unmatched when it comes to looking after young people.
"He has a natural way of connecting with young people and instantly showing them compassion and acceptance. He always goes above and beyond for his foster children and I can confidently say that he exceeds every element of his role.
"His children look up to him so incredibly fondly and would refer to him as their own family."
Well done John Joe! Keep up the great work!