Hollie encourages people to give a teen a 'forever home'
8th September 2020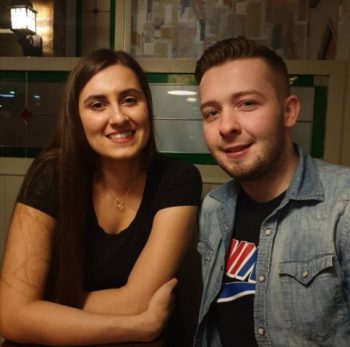 BELOW IS AN EXTRACT FROM THE STRABANE CHRONICLE
A YOUNG woman who grew up in foster care in Dunamanagh has encouraged others to 'give vulnerable teenagers the opportunity of a bright future'.
Hollie George (25) is originally from Limavady, but was fostered by a family in Dunamanagh when she was 10-years-old, along with her younger brother.
To watch Hollie chat about her experience being fostered scroll to the bottom.
She recently graduated from Ulster University, and currently works as a support worker for Autism Initiatives but is hoping to pursue a career in social work in the near future.
Hollie is now speaking out to encourage other families to give teenagers a 'forever home'.
Hollie said, "I have been in foster care for 15 years.
"I still live with them and I call them my mum and dad.
"I have five siblings so it is quite a big family.
"I was ten when I first went into care with my little brother and we still live in the same family.
"They can't really get rid of me now, I am a part of the furniture.
"I think about my life prior to being in foster care and the challenges and difficulties I faced.
"If I didn't get the opportunity of being in foster care, I don't think I would have got the opportunities I have in my life, which I am so grateful for," said Hollie.
HSC Northern Ireland Adoption and Foster Care work with the five Health and Social Care Trusts in Northern Ireland to recruit and support adopters and foster carers.
At the moment, they are in urgent need of foster carers for teenagers.
Hollie has spoke out in an attempt to encourage other families to foster a teenager and give them the home she received from her family.
Hollie continued, "The opportunities that have been given to me through fostering have been utmost and more than I could ever thought off.
"I think of how I got those opportunities and how there is someone else out there in the world who needs help and could get the same as me. Education, a forever family to put it nicely, friends who are so understanding and know about me.
"Mostly it has gave me the confidence to know that I am different yes, but I can go out into the world and be proud of being different.
"I know I have a before and after and most certainly a future with my family which I did not think I would have before.
"I have been with my family for so long that I think of those opportunities and how someone else could benefit and there is always someone else out there who needs that."
We really need people like you to come forward and foster a teen in Northern Ireland today. Watch Hollie's video below or you can watch some of our foster carers describe what it's like to foster a teenager.
Do you want to find out more about becoming a foster carer? Get in touch with HSC Northern Ireland Adoption & Foster Care today or visit our foster care section to read more.
Hollie's video: