Happy Easter
17th April 2022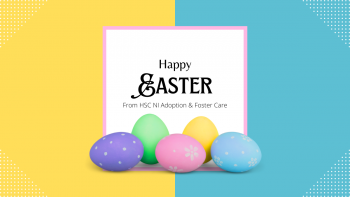 Wishing everyone a very Happy Easter break from HSC NI Adoption & Foster Care
There is no such thing as a typical foster carer or adopter and each application will be assessed individually with the wellbeing of the child/ young person at the centre.
We welcome foster care and adoptive enquiries from people from all backgrounds, regardless of marital or employment status, home ownership status or whether you are already a parent or not. Applications are considered from any race, religion, language, culture, gender, disability, age, or sexual orientation.
If you think you could give a child or young person a loving home through fostering or adoption please get in touch to find out more.