Fostering Families enjoy a trip to Titanic Experience
14th December 2021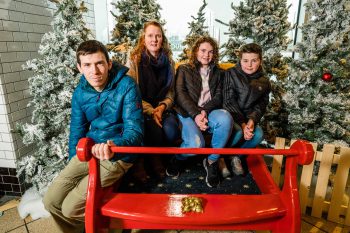 A big thank you to Titanic Belfast for kindly providing free tickets for some of our fostering families to enjoy the Titanic Experience together over the weekend.
Short breaks foster carer, Dianne (pictured) who came along said: "We all had a great day at Titanic. They really enjoyed finding the little characters and wreaths along the Edwardian trail."
Jaroslava and Tomas, are long term foster carers for two children and have two children of their own, aged 8 and 6. "We know the difference that fostering can make to children's lives and we wanted to help others. We love every second of fostering. We try and give the children a warm home full of love and our children have learnt that not everyone has everything in life and to be thankful for what we have. We all loved this special treat to Titanic."
Our foster carers are ordinary people who do an incredible thing by supporting children and young people at a time when they need it most. Every child deserves a stable and happy home where they feel valued, respected and cared for. This is what our foster carers provide. There are children and young people in your local community who need safe and loving foster homes on a short term and long term basis.
Find out how you could give a child a brighter future
Call us on 0800 0720 137 or fill out our short online form
Click here to read about the visit on Titanic, Belfast's website