Find out about becoming a Supported Lodgings Host – Virtual Event 5 August
22nd July 2021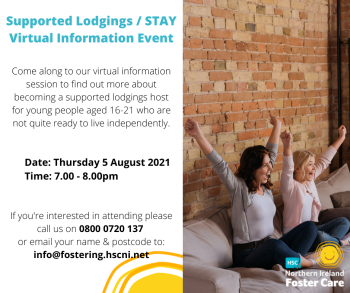 Do you enjoy the company of young people?
Do you have a spare bedroom?
Could you help teach a young person independent skills to prepare them for their journey as an adult?
If the answer is YES, you could be exactly who we're looking for!
If you live in the Belfast, Lisburn, Down, North Down or Ards area, come along to our virtual information session to find out more about becoming a supported lodgings host.
Supported lodgings is accommodation provided in the homes of approved individuals or families known as 'hosts', who offer a safe and secure home for care experienced young people aged 16-21 years who are not quite ready to live independently.
Date: Thursday 5 August
Time: 7.00pm – 8.00pm
If you're interested in attending this event please register:
Call us on 0800 0720 137
or email your name & postcode to: info@fostering.hscni.net