Could you give sisters Evie* (14) and Poppy* (9) a home for the rest of their childhood?
9th February 2023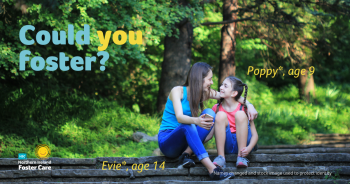 Evie*, 14, and Poppy*, 9, are two sisters who urgently need a foster home within the Northern area. They have been in their current placement for nearly two years and have settled very well.  Evie and Poppy's current carers are extremely fond of the girls, however it was only ever to be an emergency placement for a weekend. The sisters now need a new home and carers to see them through their childhood and support them into early adulthood.
Evie goes to secondary school in the Northern/Ballymoney area where she would like to remain with her friendship group. She loves horse riding and volleyball, going to the cinema, make-up, fashion, and Marvel movies. Evie has an easy-going personality and is quieter initially, though opens up more as she gets to know you. She helps out with her current foster family and contributes to family life.
Poppy is Evie's younger sister, and is energetic and outgoing.  She enjoys swimming, gymnastics, and being active, and loves all types of animals.  Poppy has made excellent progress since she moved to her current carers and her primary school are delighted with her improvement. Both girls love going to McDonalds for a treat.
Evie and Poppy would love to live with adults or a family who can care for them until they grow up.  Having experienced difficulties when they were younger, they share a close bond and do not want to be separated, but would like their own bedroom each. 
Naturally the girls are apprehensive about moving on and wonder where they will spend the rest of their childhood, which can leave them feeling low at times. As such, Evie and Poppy would benefit from compassionate and nurturing foster carers who can understand how past events in their early lives have shaped who they are today. They need carers who can help them feel safe and secure, and help them enjoy their childhoods by building positive memories and offering a forever home.
Financial remuneration is available and carers receive ongoing support.
We are hosting a virtual information session for anyone who would like to find out more about Evie and Poppy:
Tuesday 28 February 2023
6pm – 7pm
To register, call us on 0800 0720 137 or email info@fostering.hscni.net. You can also fill out our online enquiry form.
*Names changed and stock image used to protect their identity.