Could you foster Freddie*, age 8?
10th November 2023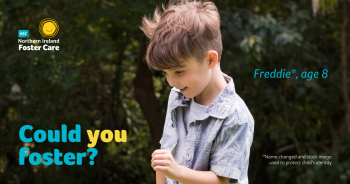 Freddie* is a loveable and funny boy with brown hair and big brown eyes. He is a bubbly, happy and affectionate child. Freddie needs a long-term foster home in the Belfast area where he can remain until he is 18.
Freddie has a diagnosis of autism and a moderate learning disability. This means he needs to have plans for the day ahead in advance and given notice or preparation for any changes or new activities. Freddie loves routine – he has a set bed-time each night and usually gets up at a similar time each morning when he takes the same breakfast before he gets ready for school.
Freddie attends a special school for children with learning difficulties. Freddie loves school. His reading and vocabulary are improving every week, and he has become better at communicating his needs. Freddie loves to play with other children, having experience of children of various ages through his current foster home. He can sometimes get over-excited and boisterous when playing with school friends, however this behaviour is easily managed by his teachers.
Due to his additional needs, Freddie does not anticipate danger as other children would, or does not always realise if he has hurt himself as he may not react. This would require extra caution and care from any potential foster carer, similar to keeping a closer eye on a younger child when playing.
Freddie loves to sing and will often burst into song. He is very interested in dinosaurs and can easily list different species. Freddie has lots of dinosaur toys and enjoys time by himself to play with them. Freddie loves taking part in activities with his foster family, but equally likes to have his own time/space in the home.
Freddie spends time with his birth family each month which includes an overnight stay. Family time is important to him and this arrangement will continue when Freddie moves to his new foster home. Ideally Freddie would benefit from a two-adult household and he can be placed with other children.
As Freddie's foster carer(s) you will receive:
full training in all aspects of being a foster carer
specialist training in autism and other relevant areas to help understand Freddie's specific needs so you are able to care for and support him as he gets older
fostering allowances plus an additional fee
advice and guidance from Freddie's social worker and other professionals involved in his life
monthly contact from your foster carer supervising social worker, with more frequent communication if needed/required
out-of-hours support from the Regional Emergency Social Work Service (includes evenings, weekends, bank holidays)
paid membership of The Fostering Network to ensure you are protected, connected and supported in your role as a foster carer
opportunities to be part of foster carer support groups where you can meet with peers and share experiences.
**********
To find out more about Freddie, register for one of our upcoming information sessions (virtual or in-person). Call 0800 0720137, email info@fostering.hscni.net or complete an online enquiry form.
Date:     Thursday 23 November (Virtual) 
Time:     6pm-7pm 
Date:     Wednesday 29 November (In-Person) 
Time:     6pm-7pm 
**********
*Name changed and stock image used to protect child's identity.