Could you provide a long-term home for siblings Alyan* (8) and Kamil* (5)?
24th November 2022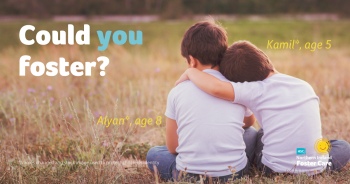 We are seeking a foster home for two delightful brothers, Alyan and Kamil who are of Pakistani/Irish heritage. The boys have been in their current residential placement for nine months where they have made excellent progress and are now ready to find their forever family until adulthood. We are seeking new carers from all walks of life and backgrounds and would particularly welcome interest from those in the Muslim community.
Alyan is a kind and sensitive child who is generally happy and settled. He loves the outdoors and going for walks where he can hear and feel the leaves rustle under his feet. He responds well to numerous sensory activities and these can help to calm and soothe him. Alyan has a diagnosis of severe learning disability and autism. Whilst he has no speech he is able to make himself understood and will take your hand and point to things that he wants. Alyan enjoys watching cartoons or playing on the iPad.
Kamil has a brilliant smile that lights up his eyes and has really blossomed in his current placement. He is inquisitive and shows an interest in everything, wanting to experience all that he can. Kamil's vocabulary is expanding every day and there is considerable potential for this to develop further. He can be impulsive and would benefit from gentle encouragement and support in areas he doesn't understand, such as taking turns or sharing.
Given their bond as brothers we really want to keep Alyan and Kamil together. Ideally they will have separate bedrooms, but sharing can be explored. It is also preferable that any birth children at home are over the age of ten.
As a carer you will receive a fee of £54,000 per annum for both boys (£27,000 for each placement) in recognition of your work and commitment, additional monthly allowance to cover the usual costs of caring for a child, access to a comprehensive range of training to equip you for your role (both pre and post-approval), and ongoing social work support.
We are hosting a virtual information session for anyone who would like to find out more:
Monday 5 December
7.00pm – 8.00pm
To register, call us on 0800 0720 137 or email info@fostering.hscni.net.
You can also fill out our online enquiry form.
*Names changed and stock image used to protect children's identity.