Could you give Elliot, 11 a long term home?
30th November 2021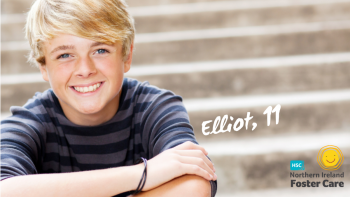 Hi, my name is Elliot*. I am 11 years old and have blond hair and blue eyes. I love school. I started Year 8 in September and am settling in really well. I have made new friends and have achieved lots of awards already! I enjoy kayaking, paddle boarding and movie nights with sweets, popcorn and a comfy blanket.
People who know me say I have a great sense of humour and I am kind, gentle and friendly. I would describe myself as dramatic, creative and artistic and I love bright rainbow colours, arts and crafts and being in plays.
I was born in Northern Ireland but my parents were from Eastern Europe. My mum died when I was young, then three years later my dad died. I went into foster care shortly after my dad died. I really miss my mum and dad and there are times when I feel sad, angry and confused. I am getting help to understand and manage my feelings through bereavement counselling. My foster carer says I am brave and strong and she is very proud of me.
I do have an older sister who lives with different foster carers than me. We see each other every week now, and this is very important to me.
I like living with my foster family but they are short term foster carers and I need a foster family to care for me until I am grown up.
I would like a foster family in the Portadown or surrounding areas. I'm happy to travel to school by bus but I don't want to change schools. I'd be content to live with other children in a foster family or be an only child. I don't mind if my new foster family has one foster carer or two, as long as you have time to spend with me.
I really love dogs and I hope that my new foster family has a dog that I could help to look after, or I could have my own dog.
Support
As Elliot's foster carer, you will receive 24 hour social work support along with a comprehensive training package and fostering allowances to cover day to day expenses.
If you think you could give Elliot a loving home and offer him a supportive future, please get in touch with us today. We welcome enquiries from anyone who would like to help Elliot regardless of their race, religion, language, culture, gender, disability or sexual orientation.
Virtual Information Session for Elliot
We are hosting a virtual information session for anyone who is interested in hearing more about Elliot.
| | |
| --- | --- |
| Date: | Tuesday 14 December |
| Time: | 6.30pm – 7.30pm |
To register for this information session please call us on 0800 0720 137 or email your name and postcode to info@fostering.hscni.net
*Elliot's name has been changed and stock image used to protect his identity