Could you provide a long term home for Lara*, 8?
8th November 2022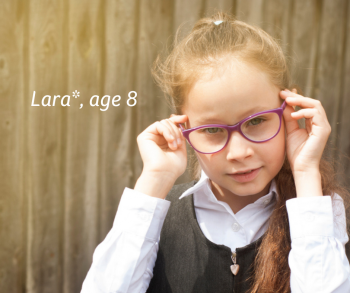 We are looking for foster carers in the Causeway locality for Lara*.
She is tall for her age and finely made. She has long brown hair, has blue eyes and wears purple sparkly glasses she picked herself.
Lara has a lovely wee personality. She is bubbly, talkative and kind. She likes to make people laugh, loves one to one time and lots of TLC.  She is a social butterfly, full of energy and likes to be kept busy.
Lara has lived in foster care for over two years, she understands that her current carers provide short term care and we are hoping to find her a home with longer term foster carers who will look after her until she can live independently.
Lara has an idea of the type of foster home she would like to live in.  She doesn't mind if she lives in a home with two foster carers or a single carer though we think it may be better if there were two foster carers with a strong support network.  Ideally she would like to live in a foster family with at least one teenage girl. She does want to be the youngest in the family. Lara wishes to live with Christian church attending carers if at all possible.  Another important thing on Lara's wish list is living with a family who own a dog as she loves dogs.
Lara has attended dance class and loved this. Lara would like to join a ballet or gymnastics club too.  She likes to keep busy and enjoys going out on her bike and loves things like going for walks, the beach and swimming.  She loves colouring in, football and enjoys karaoke. Lara loves the Disney Channel and watching Strictly Come Dancing and Dancing on Ice.
Lara has had to move schools a number of times which has been really tough for her and we would like if possible to maintain her current placement, even until the end of the school year.
Virtual Information Session
We are hosting a virtual information session for anyone who would like to find out more about Lara.
| | |
| --- | --- |
| Date: | Thursday 17 November |
| Time: |  7.00pm – 8.00pm |
To register for this information session, call us on 0800 0720 137 or email info@fostering.hscni.net
To find out more about Lara you can also fill out our online enquiry form