Could you foster Harry*, 13?
14th June 2023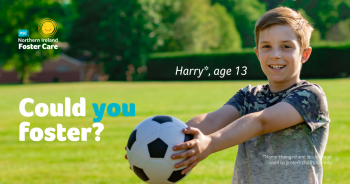 Intensive support fostering
We're looking for committed and dedicated people in the Lisburn, Co. Down and Belfast areas who can provide young people, like Harry* (13) below, with a safe home.
These young people aged between 10 years – 18 years have experienced adverse childhood experiences and need foster carers who can care for them and provide stability. They require a nurturing environment with foster carers who have the knowledge, understanding and skills to provide care and support until such a time that the young person can either return home or are ready to live independently.
We provide a wraparound support service for Intensive Support foster carers and young people including access to Extern, a psychologist, short breaks and supervising social work support. Full time Intensive support foster carers also receive a fee of £24,000 per annum plus fostering allowances.
Experience of working with adolescents, through parenting, employment, volunteering or current/ previous foster carer would be required.
Could you foster Harry*, 13?
Harry is a thoughtful and endearing 13-year-old boy who is looking for a foster home where he can stay until he reaches adulthood. Ideally, Harry would love to live in the County Down area with a one or two adult household who have no other children in the house, but we welcome enquiries from further afield as well.
Harry has light brown hair and is a slim/athletic build. He is kind-hearted, caring and considerate with a lovely smile, and enjoys having fun and jokes with the adults around him.
As well as football, Harry loves to swim, play basketball and computer games. Harry enjoys being with people, however he works best in one-to-one settings. He would benefit from having structured activities with encouraging adult support.
Harry can struggle with his emotions at times and needs to build trust with his caregivers in order to explore his feelings effectively. When Harry feels safe and secure in his surroundings he feels able to build positive and meaningful relationships with the adults in his life.
Harry thrives on routine and he can become upset if there is a change in his routine that he has not been prepared for. Harry has built some positive relationships with the adults around him and at times can come across as outspoken; however, this is just him sharing his opinion and perspective on the world.
Harry has a statement of Special Education Needs and has a diagnosis of ADHD. He is currently living in residential care and since moving in he has been learning new skills, like cooking. Harry can become excited initially whilst engaging with new activities and needs his carers to help him slow down and encourage him to take it one step at a time. Harry has responded very well to this approach and has been able to develop his skills in the kitchen and in other areas.
Harry loves to learn at school and takes pride in his schoolwork. He is a bright child who has been re-introduced to specific mainstream subjects which he is managing well, demonstrating the positive progress he has made. He recently won an art competition and has made some school friends. However, Harry can struggle with social cues with his peers and this can lead to some difficulties with him maintaining friendships. Harry is very honest and does not always understand social norms in social settings.
The adults who currently care for Harry are very fond of him. They have discovered that Harry loves having sensory time at night, whether this is with his squishmallows or a bath before bed which helps him settle to sleep.
Harry has been through a lot of trauma in his life and he needs his foster carer/s to have an understanding of how these events have shaped him and an openness to learn more about how best to care for Harry through training. Harry requires a foster carer/s who is nurturing, able to appreciate his feelings, have patience to build a trustworthy relationship and care for him in a way that makes him feel safe, secure and happy.
Harry has monthly contact with his family and weekly calls/video calls with his mum, which is important to him.
As Harry's foster carer/s you will receive:
£24,000 fee plus additional fostering allowances
Regular contact from your supervising social worker via telephone and home visits
Out of hours support from Regional Emergency Social Work Service (includes evenings, weekends, bank holidays)
Comprehensive training package to help you understand Harry's needs
Support as required from other members of the professional team including psychology and Extern support for the young person in your care
14 days paid holidays per year. Additional nights can be agreed in certain circumstances when required
Regular short breaks dependent on the needs of the young person in your care
Membership of The Fostering Network, a leading UK charity who work alongside all those involved in delivering fostering services
Insurance cover provided by The Fostering Network and paid for by South Eastern Trust.
Virtual Information Sessions
If you are interested in hearing more about becoming an Intensive Support foster carer we are hosting 2 virtual information sessions:
| | |
| --- | --- |
| Wednesday 28 June | 1.00pm – 1.30pm |
| Wednesday 28 June | 7.00pm – 7.30pm |
Harry's social worker will also be available at these information sessions to tell you more about him.
To register, please call us on 0800 0720 137 or email info@fostering.hscni.net
Alternatively you can fill out our online enquiry form
*Name change and stock image used to protect child's identity.