Could you adopt Lee-Anne?
20th April 2022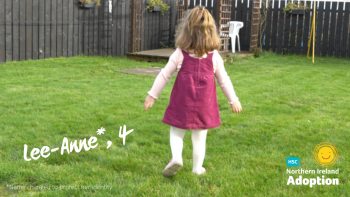 Lee-Anne* is a curious and energetic 4 year old who loves to explore! Lee-Anne is happiest when she is outdoors exploring the world around her, playing in water and chasing bubbles. She loves looking around her listening to the rain, picking up leaves and jumping in puddles. Lee-Anne enjoys going to the park and her favourite things are the swing and the slide as she gets to feel like she is flying!
When at home with her foster carers Lee-Anne likes to watch Peppa Pig and Mr Tumble. She has lots and lots of Peppa toys which she loves to play with.
Lee-Anne has an autism diagnosis and some delays in her development. She finds it difficult to communicate verbally what she needs, however she is finding her own little ways. Lee-Anne has also had a difficult start to her young life which means it can take her time to build relationships with those around her. When she does, Lee-Anne is very affectionate and loves getting a big cuddle from her foster carers or to be tickled. Lee-Anne has an incredible way of making those around her smile and is described as a little girl who "loves to be loved."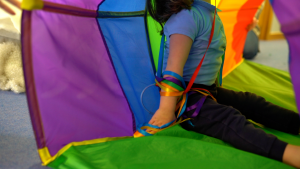 Lee-Anne attends a special needs nursery school and really thrives at school, especially when she gets to do messy play as this makes her giggle. Lee-Anne really benefits from sensory interaction and play and a consistent and familiar routine is important so she can begin to learn what is coming next and feel safe. She receives lots of support and therapies to help with her development.
Ideally we are seeking an adoptive family from anywhere in Northern Ireland and for her to become part of her forever family soon. However, we are also interested in hearing from families who may be able to offer Lee-Anne a long term foster home.
Lee-Anne would benefit from being the only child or the youngest child in her home, with a significant age gap to ensure she gets the time and attention she will need.
Could you share Lee-Anne's journey through life? Watch her video
To hear more about Lee-Anne call 0800 0720 137 of fill out our online enquiry form.
(*Child's name changed to protect her identity)