Could you adopt Charlie*, age 4?
10th May 2023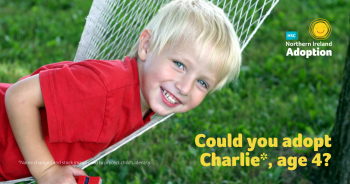 Charlie* is a wonderful 4-year-old boy with blonde hair, big blue eyes and a beautiful smile. He loves Paw Patrol, Fireman Sam and playing with his cars and trucks. He also loves playing outside where he can run, jump and climb. Charlie's foster carers describe him as a lovely young boy who is bright and loves to have fun.
Charlie is due to start primary school in September. Due to his global developmental delay and early years' experience, he has a Statement of Special Educational needs which will enable him to receive the additional educational support he requires when he starts school.
Sometimes Charlie can struggle in terms of mixing and playing with children his own age or younger, and is more comfortable with children who are older than him. Charlie thrives on one-to-one attention from adults and developmentally is making very good progress. At times though he can feel scared and confused and he requires gentle care and support to help him understand and cope with his emotions.
Charlie needs a permanent home where he can feel safe and secure to help him progress in all areas of his development. Charlie's needs would be best met in a two-parent family with children who are older than him, or in a family where he is the only child. Enquiries are welcome from all trust areas.
Charlie's foster carers are looking forward to helping an adoptive family get to know and love him.
Could you adopt Charlie? For more information, call us on 0800 0720 137 or email info@fostering.hscni.net.
*Name change and stock image used to protect child's identity.