Annual Foster Care Fortnight™ Launch
17th May 2022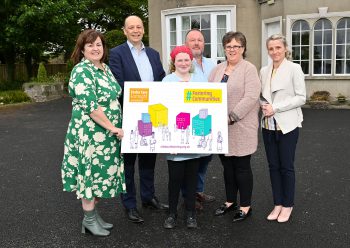 HSC NI Foster Care and The Fostering Network were joined by foster carers and social work staff from across Northern Ireland as well as Peter May, Permanent Secretary for the Department of Health as they co hosted the launch of Foster Care FortnightTM (9-22 May) to raise awareness of the importance of foster care.
Some children and young people need fostered for a few days or weeks, a few months or longer. Foster care makes a real difference to the lives of children, young people and their families, and foster carers offer safe and caring homes to help them develop, thrive and reach their potential.
There are currently 3,568 children and young people in care in Northern Ireland, with 81% living in foster care (September 2021). According to The Fostering Network, around 265 more fostering families are needed across Northern Ireland to make sure every one of these children and young people get the care they need from foster carers within their own community.
We need a wide range of foster carers to reflect the diversity of children and young people who need safe and nurturing homes. Our HSC NI Foster Care community is made up of a rich mix of people including couples, single foster carers, parent and an adult child who foster together, carers from ethnic minorities and foster carers from the LGBTQ+ community.
Clare Riding, who spoke at the launch, has been fostering for 8 years along with her husband, Jordie. "The children have given us so much joy! When we started fostering, we never considered fostering teens but one teenager who came for a weekend stayed for a year and a half before moving on to live with her siblings. She is an amazing young woman. To see how they have developed when they have been with us is so rewarding, like the little child who came to us without speech or couldn't eat. He's now fully weaned and babbling away happily – it makes us feel proud."
Aaron Watson also shared his experiences at the launch. He is a kinship foster carer for a young person who he knows in his local community. The young person was with him for 7 years and has just gone to university, but is still part of Aaron's family. "For me the best thing about fostering is seeing the young person develop confidence, be happy and self-determined. I feel people who want to foster should be open minded and level headed, and care about the young people."
Director of The Fostering Network in Northern Ireland, Kathleen Toner said: "If the last two years has taught us anything, it is the need to care for and look out for those in our local community. Foster carers across Northern Ireland go above and beyond for all the children in their care, but we need more people across all our communities to ensure children don't have to change schools, make new friends or move far away from their siblings.  
We urgently need more foster carers across every community in Northern Ireland. You can become a foster carer regardless of age, economic situation, gender, sexual orientation or relationship status. If you have ever thought about fostering I would urge you to pick up the phone and start your fostering journey today." 
Una Carragher, Manager of HSC NI Foster Care central service said: "Foster Care Fortnight helps to highlight the need for more generous people to come forward to consider fostering. There are children and young people in every community who need foster care. If you have been thinking about fostering for some time, maybe now is the time to take the next step to foster for your community. We will train you, provide financial allowances and support you every step of the way." 
To find out how you could become part of our foster care community call 0800 0720 137 or fill out our online enquiry form.